VR installation
Akademie der Künste | Berlin
I've been asked to compose an electronic, immersive and holophonic music for this fantastic VR installation.
Music is composed and spatialised by myself and , following the whole path of the dramaturgy of the installation, it goes from a more calm and acoustic mood to an electronic noisy and aggressive soundscape.
It has been a huge creative process involving music, sound design, VR conception, Virtual Architecture, Interaction and dance.
Here you can find a very complete website dedicated to the project:
Idea & Story: Diana Schniedermeier und Maya Puig
Lead VR Creators: Maya Puig, Patrik de Jong, Dirk Hoffmann Lead Technologists: Torsten Sperling, Sebastian Hein Executive Producer: Diana Schniedermeier
Choreography: Richard Siegal
Composer: Lorenzo Bianchi-Hoesch
Dancers: Margarida Neto, Claudia Ortiz Arraiza, Corey Scott-Gilbert, DiegoTortelli Voice Blixa Bargeld
Creative Producer: Maya Puig
Costumes: Dirk Hoffmann, Nico Alexander Taniyama
Concept: Dirk Hoffmann, Patrik de Jong
Art Directors: Dirk Hoffmann, Nico Alexander Taniyama, Robert Werner 3D Artist Lead Nico Alexander Taniyama
3D Artists Christian Rambow, Dana Würzburg
Choreography: Programming Torsten Sperling
Technologists: Dennis Timmermann, Hui-Yuan Tienj
Sound Design: Victor Audouze
Installation Architecture Unit Berlin
Motion Capture Facilitators Mimic Productions
Project Management Thorsten Schwarck, Jochen Watral, Kristin Sperling Co-Producers Saskia, Kress, Michael Grotenhoff
A project of Interactive Media Foundation und Filmtank, co-created with Artificial Rome, part of the project Bauhaus Spirit, funded by Fonds Bauhaus heute of the Federal Cultural Foundation and the Medienboard Berlin Brandenburg.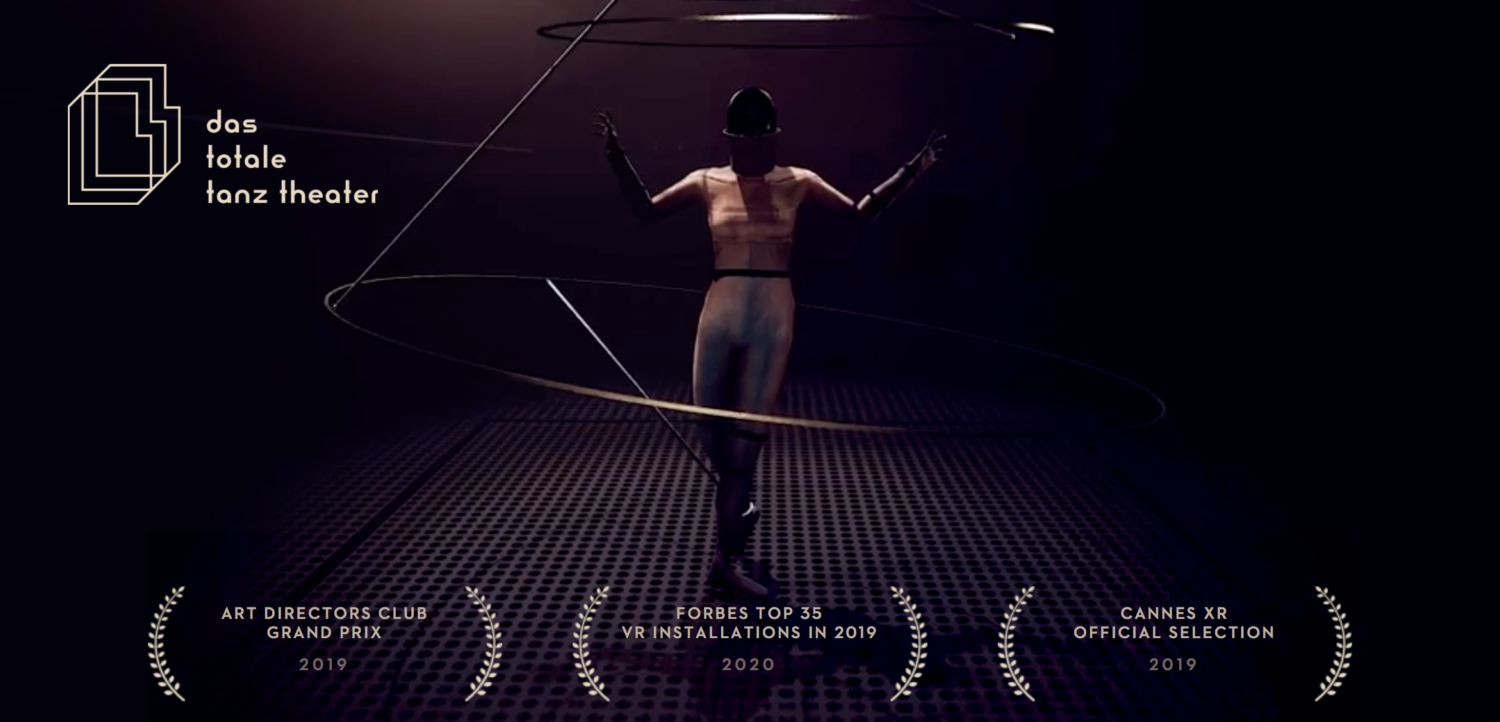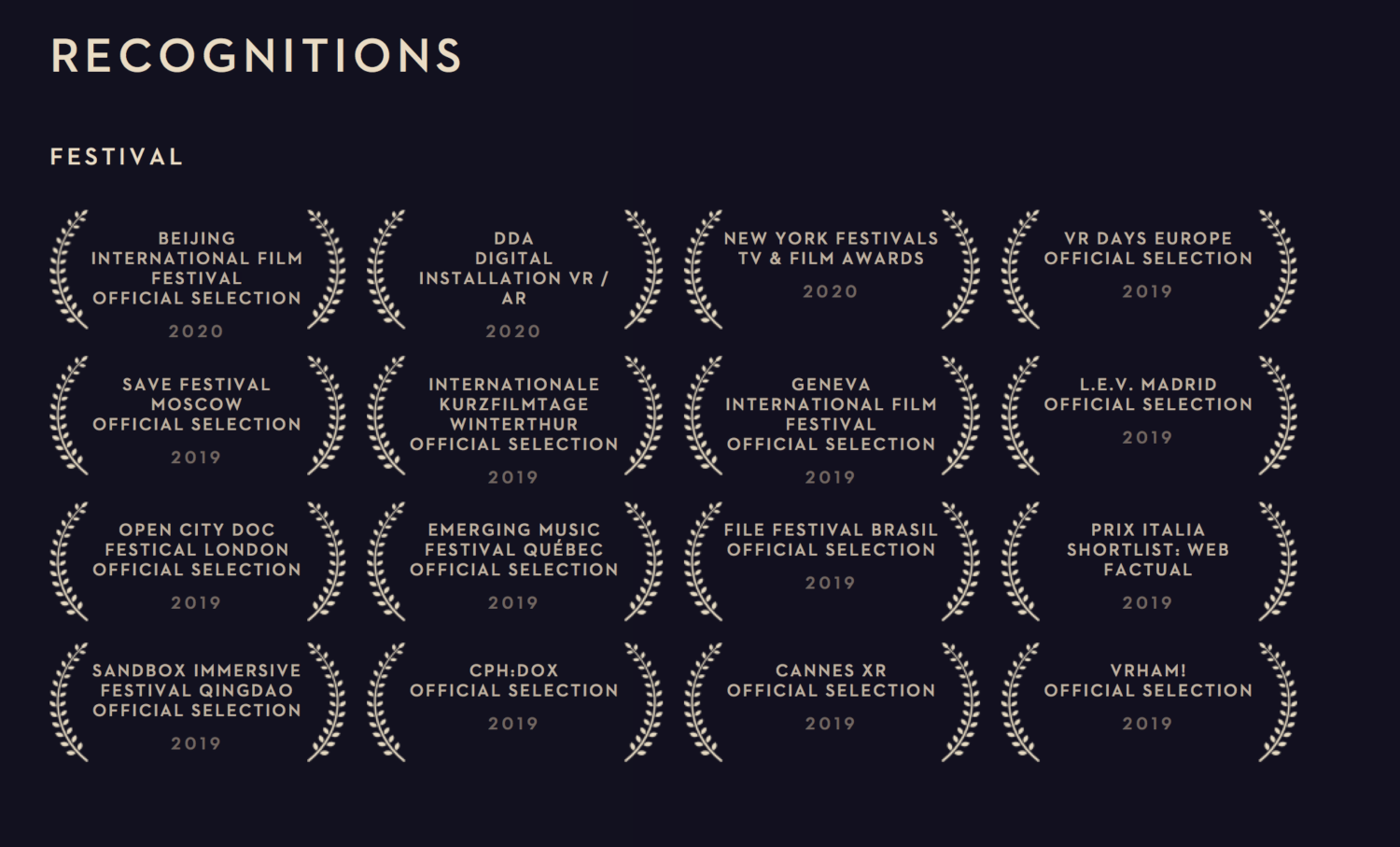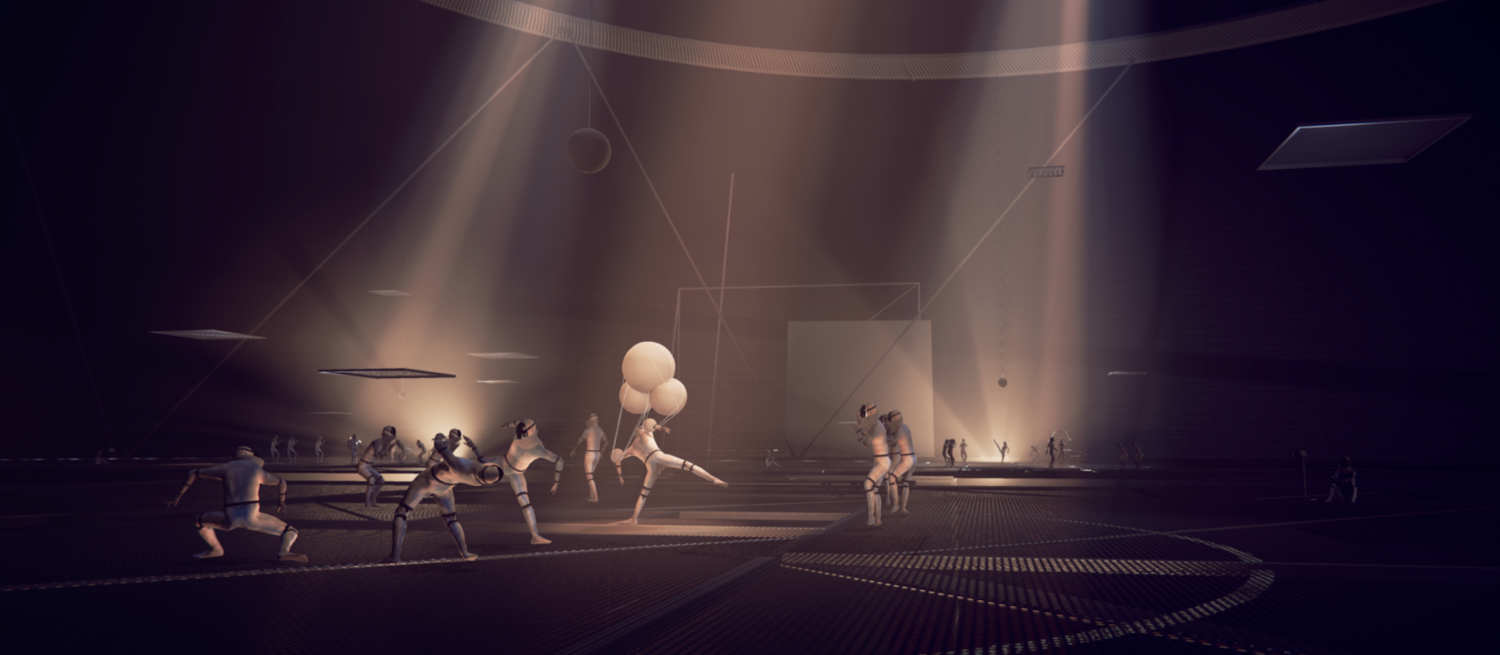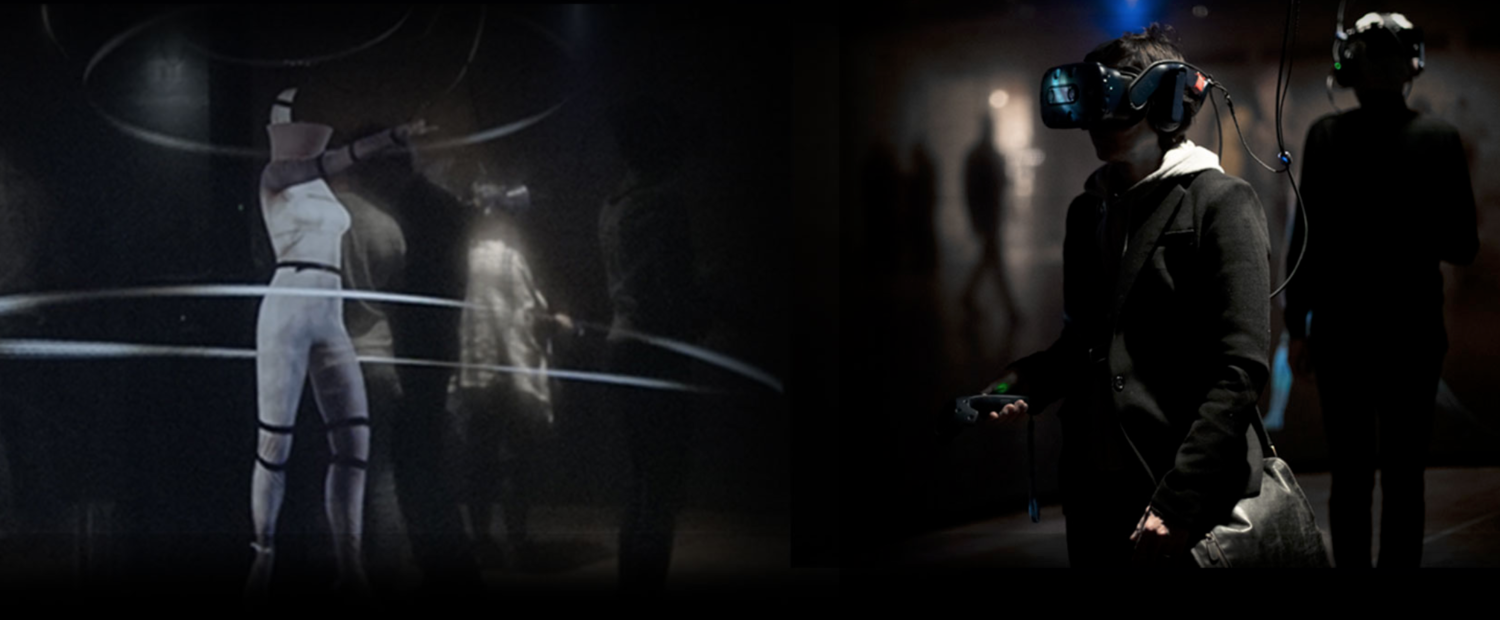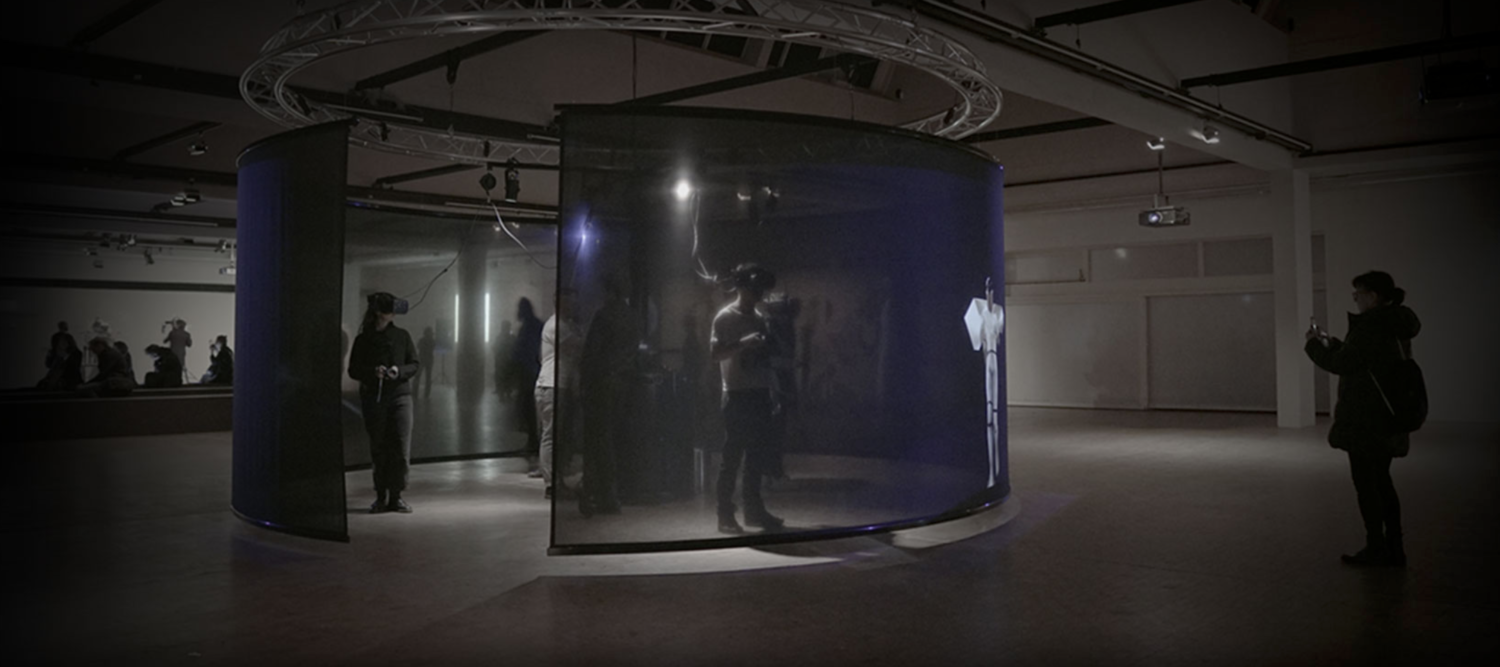 the installation has been presented:
15/10/2020-16/10/2020
SCHLOSS HERRENHAUSEN, HANNOVER
Within the symposium "Entwerfen bildhafter Räume und begehbarer Bilder. Virtuelle Architekturen im Spannungsfeld der Disziplinen" Maya Puig and Patrik de Jong present Das Totale Tanz Theater.http://portal.volkswagenstiftung.de/search/projectDetails.do?ref=97802
10/9/2020-13/9/2020
POSITIONS ART FAIR 2020, BERLIN
As partner of the Berlin Art Week POSITIONS Berlin Art Fair is depicting the quality and currentness of the international art scene comprehensively and independently from established categories and invites visitors to discover new positions since 2014. https://positions.de/
9/9/2020-23/9/2020
ARS ELECTRONICA .ART GALLERY
Das Totale Tanz Theater is part of the Ars Electronica .ART Gallery, the online arm of the festival for the 2020 edition.https://ars.electronica.art/
18/8/2020-23/8/2020
SHORT WAVES FESTIVAL, POZNAN
An international short film festival taking place in Poznan, this year for the 12th time. With 70 events, over 300 films and dozens of international guests, the Short Wave Festival is known for its programme density for a reason.http://www.shortwaves.pl/en
24/7/2020-26/7/2020
MOOVY TANZFILMFESTIVAL KÖLN
Moovy is a dance film festival at the Filmforum, Museum Ludwig in Cologne. http://www.moovy-festival.com/
22/5/2020-11/7/2020
GALERIE EIGENHEIM, BERLIN
Galerie Eigenheim is a space for contemporary art and communication. https://galerie-eigenheim.de/
10/5/2020-31/5/2020
RED DOT DESIGN MUSEUM, ESSEN
26/1/2020-26/1/2020
PALAISPOPULAIRE, BERLIN
What tension arises develop a virtual reality experience such as Das Totale Tanz Theater where different arts, dance and computer, man and machine meet? A conversation with Richard Siegal, choreographer, Claudia Ortíz, dancer, Torsten Sperling, programmer, and Diana Schniedermeier, executive producer moderated by Maya Puig, creative producer on Sunday, 26 January, 11.30 am. https://www.db-palaispopulaire.de/de/palaistalk.htm
22/1/2020-26/1/2020
15TH PRAGUE SHORT FILM FESTIVAL
Prague Short Film Festival is a competitive Festival of short films. Its aim is to contribute to the development and promotion of artistic short films and their production. Our 360° VR Music Video Das Totale Tanz Theater 360 is part of the festival program.https://www.pragueshorts.com/
21/11/2019-24/11/2019
TANZRAUSCHEN, WUPPERTAL
TANZRAUSCHEN presents in cooperation with the IMZ International Music + Media Centre the international Dance Film Competition dancescreen in Wuppertal. On the program amongst others: Das Totale Tanz Theater 360.https://tanzrauschen.de/
16/11/2019-17/11/2019
SAVE FESTIVAL, MOSCOW
Russia Premiere for Das Totale Tanz Theater 360 at the Save Festival in Moscow.http://mixtura.org/
15/11/2019-31/1/2020
PALAISPOPULAIRE, BERLIN
The PalaisPopulaire is forum for people who want to experience art, culture, and sports in interdisciplinary ways under one roof. Including exhibitions from the Deutsche Bank Collection, international cooperation partners, and private collections, as well as literature, music, sports parkour, performance, and dance.https://www.db-palaispopulaire.de/en/exhibitions.htm
13/11/2019-15/11/2019
RAUMWELTEN, LUDWIGSBURG
Raumwelten is examining the interfaces between scenography, architecture and media. The central conference with first-class national and international speakers, lectures, workshops and keynotes offers exciting impulses and useful information for the creative scene and companies. Visionary architecture meets with brand communication, digital media with live communication, exhibition and museum design. https://www.raum-welten.com
13/11/2019-15/11/2019
VR DAYS EUROPE, AMSTERDAM
VR Days is a 3-day conference and exhibition on Virtual, Augmented and Mixed Reality content, creativity and innovation. https://vrdays.co/
5/11/2019-10/11/2019
INTERNATIONALE KURZFILMTAGE WINTERTHUR
Internationale Kurzfilmtage Winterthur is held every year in November. It is considered the most significant short film festival in Switzerland and is a popular public festival and also an important venue for the international short film industry.http://www.kurzfilmtage.ch
1/11/2019-10/11/2019
GENEVA INTERNATIONAL FILM FESTIVAL
The GIFF explores the links between cinema, television and digital art. The festival offers a series of experiences focused on image, sound and new forms of narration, which include screenings, interactive installations, VR works, conferences and live performances.https://www.giff.ch/
27/10/2019-1/11/2019
JI.HLAVA INTERNATIONAL DOCUMENTARY FILM FESTIVAL, CZECH REPUBLIC
Each autumn the Ji.hlava IDFF brings together thousands of viewers, directors, producers, film critics, journalists, friends and family of documentary cinema to spend several days "thinking through film". The 6 day festival of creative documentary cinema is the largest event of its kind in Central and Eastern Europe.https://www.ji-hlava.com/
17/10/2019-20/10/2019
L.E.V. MADRID
L.E.V. (Laboratorio de Electrónica Visual) is a platform specialized in the production and promotion of electronic sound creations, and its relationship with visual arts. It was a European pioneer in this field, and since more than 12 years ago, it tries to converge the natural synergy between image and sound, and the new artistic trends, making special emphasis on live actions.https://levfestival.com/19/en/lev-madrid/das-totale-tanz-theater/
15/10/2019-20/10/2019
B3 BIENNIAL OF THE MOVING IMAGE, FRANKFURT
Since 2013 the B3 Biennial of the Moving Image has shaped the genre- and cross-nation debate, has addressed new trends and developments in the field of the moving image. Since then it has developed into one of the outstanding and opinion-forming international events in the field of art and media. On the program: Das Totale Tanz Theater 360https://b3biennale.de/en/
11/10/2019-17/10/2019
BERLIN DESIGN WEEK
BERLIN DESIGN WEEK will make design and its field of action visible and tangible for a week in Berlin. In terms of content, the BERLIN DESIGN WEEK will deal with the 100th anniversary of the Bauhaus in 2019. 15,000 visitors at over 40 locations with about 100 national and international participants are expected this year.https://berlindesignweek.com/event/state-of-design/?lang=en
3/10/2019-5/10/2019
BARCELONA 360º VR AND AR MARKET
The VR & AR Market in Barcelona has become a key reference for VR and offers conferences, exhibitions, a VR Space and a VR Cinema, where Das Totale Tanz Theater 360 will be shown.http://360vrfest.pro/
16/9/2019-9/11/2019
EXHIBITION AT THE UNIVERSITY OF THE ARTS, LONDON
The exhibition "Bauhaus: Utopia in Crisis" explores how contemporary practitioners have been drawn to the social, utopian and transgressive aspects of Bauhaus history. The exhibition will investigate the ways in which artists today are reframing the Bauhaus's modernist legacy. https://www.arts.ac.uk/whats-on/bauhaus-utopia-in-crisis
11/9/2019-31/12/2019
BAUHAUS MUSEUM, DESSAU
For the occasion of the opening of the new Bauhaus museum in Dessau, Das Totale Tanz Theater is being presented in the open stage area of the museum, together with works of Rita McBride and Lucy Raven.http://www.bauhaus-dessau.de
5/9/2019-9/9/2019
OPEN CITY DOCUMENTARY FESTIVAL, LONDON
Celebrating the art of non-fiction, Open City Documentary Festival creates an open space in London to challenge and expand the idea of documentary with international contemporary and retrospective non-fiction film, audio and cross media.https://opencitylondon.com/
4/9/2019-8/9/2019
MUFFATWERK, MUNICH
Muffatwerk serves as a major energy supplier for Munich to this very day – for the arts, culture and youth scene, however. The interdisciplinary program is inspired by the idea of a multicultural, future-oriented and urban contemporary culture. https://www.muffatwerk.de/en/events/view/4651/rahmenprogramm-sensefactory-das-totale-tanz-theater
29/8/2019-1/9/2019
EMERGING MUSIC FESTIVAL, QUÉBEC
The Emerging Music Festival encourages exchanges among artists and industry professionals worldwide.https://www.fmeat.org/jardin-vr/
4/8/2019-6/8/2019
ASPEN INSTITUTE, COLORADO
18/7/2019-31/10/2019
"BAUHAUS LEGACY" EXHIBITION, MACERATA
Das Totale Tanz Theater 360 is part of the exhibition "Bauhaus Legacy" at Palazzo Buonaccorsi of the Macerata Museums – Italy's only exhibition to the Bauhaus centennial this year.https://www.meetcenter.it/en/event/bauhaus-100-imparare-fare-pensare/
25/6/2019-11/8/2019
FILE – INTERNACIONAL ELECTRONIC LANGUAGE FESTIVAL, SAO PAULO
FILE (Festival Internacional de Linguagem Eletrônica) is the biggest art & technology festival in Brazil, and it serves as a lead indicator of the plurality of the work created in the interactive art field internationally.https://file.org.br/
24/6/2019-27/6/2019
SANDBOX IMMERSIVE FESTIVAL, QINGDAO
Sandbox Immersive Festival (SIF) is China's first independent virtual media festival dedicated to promote immersive and interactive content including virtual, augmented, mixed reality and immersive arts. http://www.sandboxif.com
7/6/2019-15/6/2019
VRHAM! – VIRTUAL REALITY & ARTS-FESTIVAL, HAMBURG
VRHAM! (Virtual Reality & Arts Festival Hamburg) is the first international festival for virtual reality art in Germaby. https://www.vrham.de/vrexhibition/das-totale-tanz-theater/
29/5/2019-5/6/2019
GOETHE-INSTITUT ATHEN
28/5/2019-15/9/2019
PHI CENTRE, MONTREAL
Dedicated to art in all its forms, Phi is at the intersection of art, film, music, design and technology. Through eclectic programming and a strong emphasis on content creation, Phi fosters unexpected encounters between artists and audiences. https://phi-centre.com/en/event/exhibition-en/
14/5/2019-19/5/2019
CANNES XR @ FESTIVAL DE CANNES, CANNES
Cannes Film Festival, has launched a new extended reality programme in 2019: Cannes XR, dedicated to immersive technologies and entertainment, takes place during the Festival de Cannes and presents a program where storytelling meets immersive technologies. https://www.marchedufilm.com/en/cannesxr/home
3/4/2019-13/4/2019
BIPOD FESTIVAL, BEIRUT
20/3/2019-31/3/2019
CPH:DOX, COPENHAGEN
As part of the CPH:DOX international film festival, Das Totale Tanz Theater will be shown together with the film 'Vom Bau der Zukunft' in the Kunsthal Charlottenborg, Copenhagen.https://cphdox.dk/en/programme/film/?id=1206
5/3/2019-14/3/2019
EYE FILMMUSEUM, AMSTERDAM
The Eye Film Institute Netherlands in Amsterdam continues its Xtended series, which has previously shown VR work by Alejandro G Iñárritu, Laurie Anderson, Marina Abramović and Tsai Ming-liang, with Das Totale Tanz Theater. A cooperation with Goethe Institut Amsterdam.https://www.eyefilm.nl/en/film/xtended-vr-das-totale-tanz-theater?program_id=11876659
17/1/2019-24/1/2019
AKADEMIE DER KÜNSTE, BERLIN
In the context of the official opening festival of the Bauhaus year we will present Das Totale Tanz Theater and Das Totale Tanz Theater 360 for the first time.https://www.bauhausfestival.de/en/programme/details/973/
17/1/2019-17/2/2020
360° MUSIK VIDEO, ARTE 360 APP
SCHAUSPIELHAUS BOCHUM, GERMANY
Postponed until further notice. The Oval Office at Schauspielhaus Bochum is a flexible exhibition space for famous international artists working in the fields of film and video art, digital art or spatial and light installations. https://www.schauspielhausbochum.de/en/stuecke/3148/das-totale-tanz-theater
LESSINGFESTIVAL, WOLFENBÜTTEL
Festival postponed. New dates tbc. The »Lessingfestival« in Wolfenbüttel is dedicated to the life, work and effect of Gotthold Ephraim Lessing. Our Single User Installation is part of it.